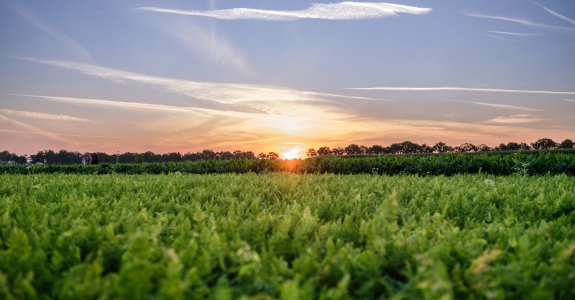 Our many years of experience
In 1950, Harrie Van Rijsingen starts demand-driven cultivation and delivery of vegetables. The strategy of demand-driven contract farming proved to be a gap in the market, with more and more growers and vegetable processing companies joining the organisation. The company steadily extends its services to its customers; particularly in the areas of cultivation advice and guidance, sowing, harvesting, processing, planning, organisation and logistics.
In 1984, the organisation is handed over to the five sons. The organisation continues to expand and new activities are undertaken. In the year 2000, Harries Carrot Concepts is founded as an organisation to meet the growing demand for healthy snacks; snack carrots. To accommodate growth, the company moves from Mierlo to its current address on Gerstdijk in Helmond. This location had enough space to also start up "Proverka vegetable juices & fibres", based on the growing desire to make the best use of residual flows from vegetable production.
These activities combined still constitute the foundation of VanRijsingenGreen. On the one hand, growing for the vegetable processing industry (VanRijsingenSource), packaging snack carrots for retail (VanRijsingenCarrotConcepts) and, on the other, processing residual streams into valuable vegetable ingredients (VanRijsingenIngredients).